Australia's Dinosaur Trail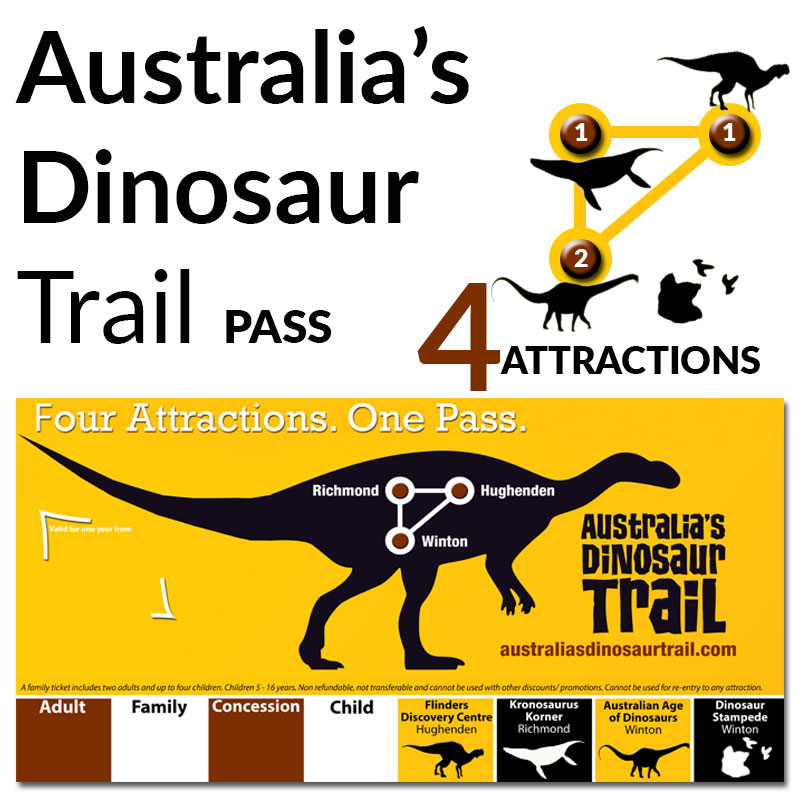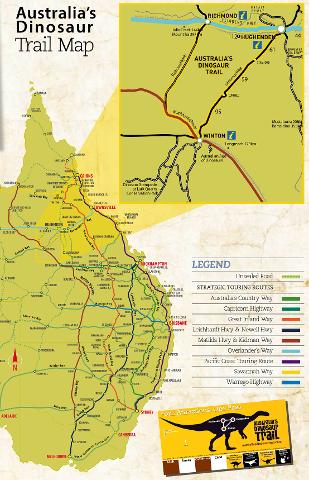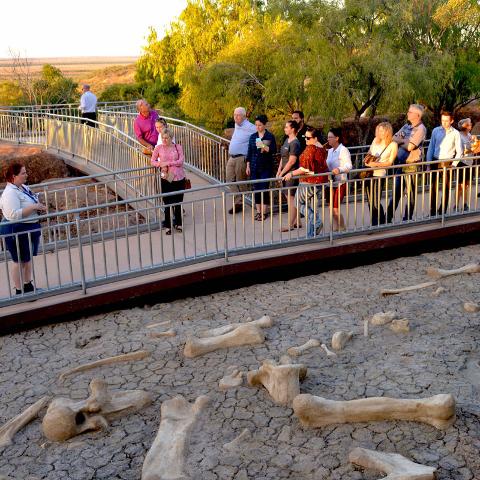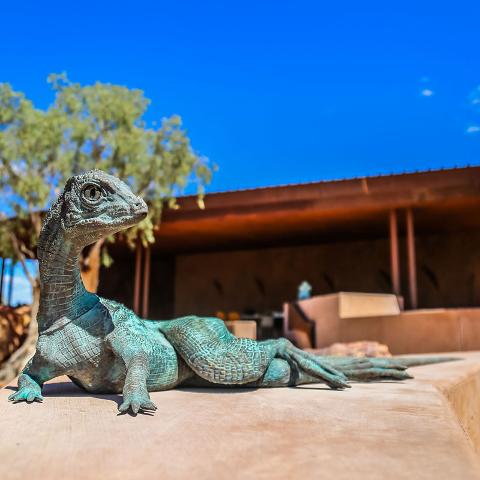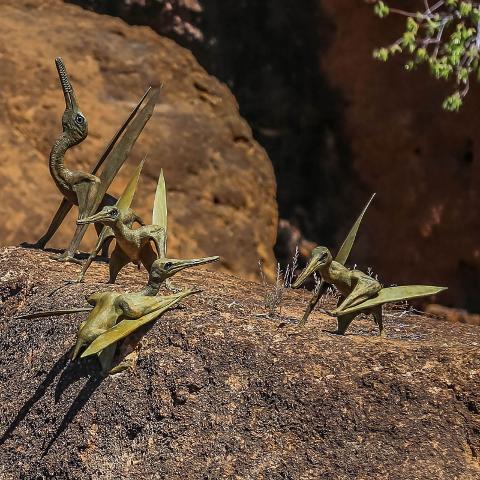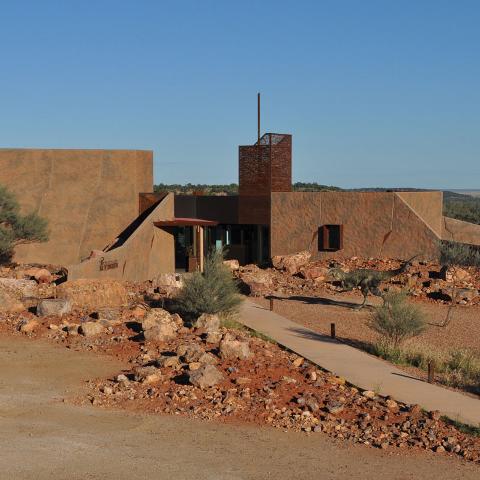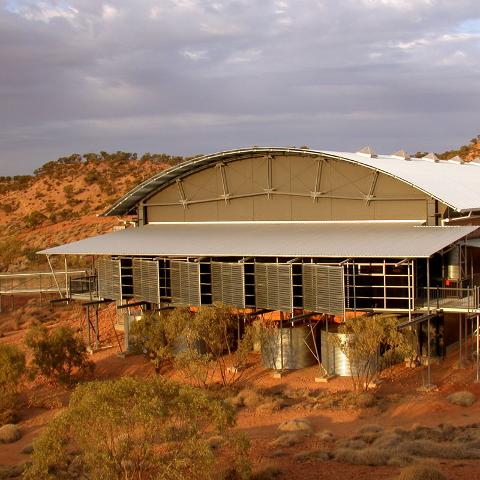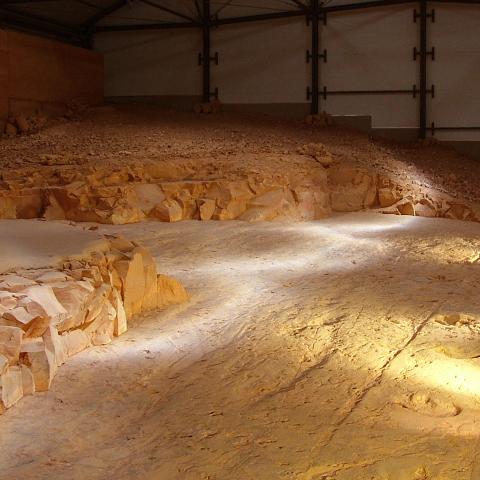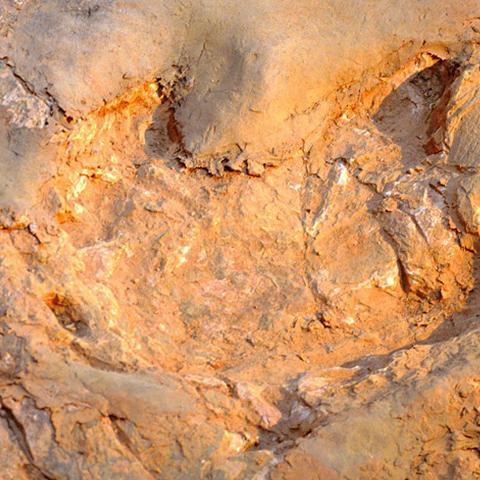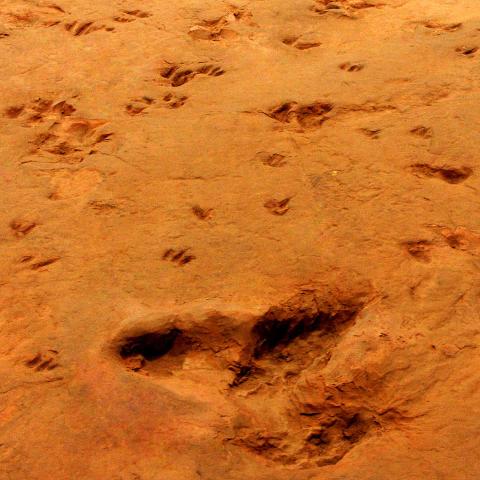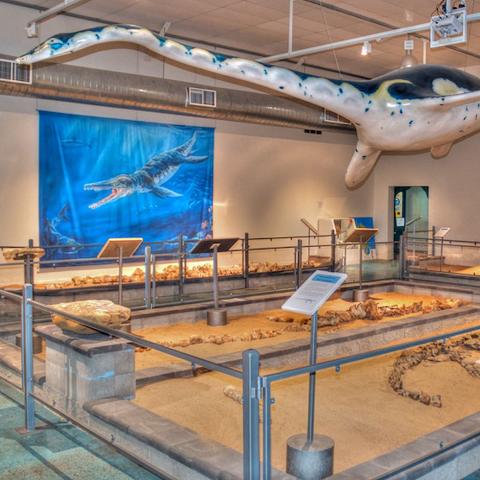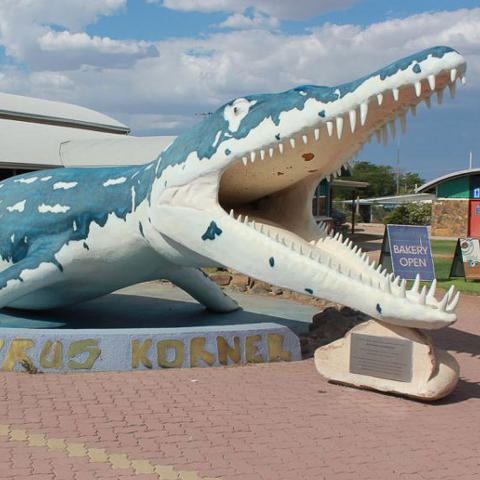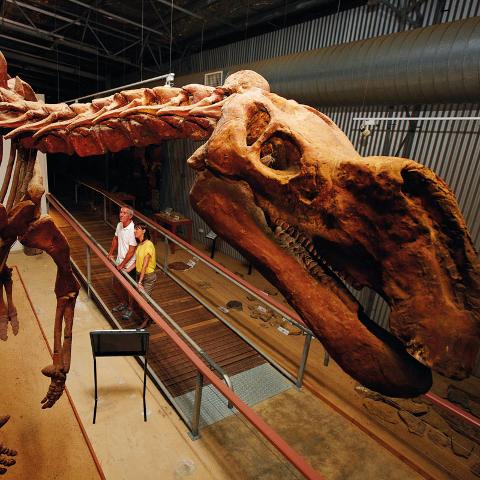 Duration: 3 Days (approx.)
Location: Winton, QLD
Product code: ADTA
A visit to Outback Queensland would not be complete without a visit to Australia's Dinosaur Trail (ADT). The ADT Pass includes a guided tour of the Australian Age of Dinosaurs Museum and Dinosaur Stampede National Monument in Winton and entry to Kronosaurus Korner in Richmond and Flinders Discovery Centre in Hughenden.
If you are planning a trip to any of these attractions, save money and time with an ADT Pass, the pass can be purchased at any of the four attractions or travellers can save time and purchase their pass online before their arrival. This pass is valid for one year from purchase!
ADMISSION
Australia's Dinosaur Trail includes a brightly coloured ticket, and at your arrival at the Australian Age of Dinosaurs Museum a visitor guide to Dinosaur Canyon.
AUSTRALIAN AGE OF DINOSAURS MUSEUM OF NATURAL HISTORY, WINTON
WHERE: The Museum is approximately 12km south-east of Winton on the Landsborough Highway, then drive 11km up to The Jump-Up. Caravans can be towed to the top or unhitched at the foot of the hill. It is recommended caravans towed by small 2WD vehicles unhitch at the foot of the hill. Driving from Winton to the Museum will take approximately 30 minutes.
WHAT: The Australian Age of Dinosaurs is a museum focused on Australia's evolutionary history, in particular the discovery, conservation and research of Australia's dinosaurs. It is a working museum – an education resource, research facility and tourist attraction. It features:
the world's largest collection of fossils from Australia's largest dinosaurs
the most productive fossil preparation laboratory in the Southern Hemisphere
a guided tour including return transfers on the Noble Express shuttle to Dinosaur Canyon where you get the chance to walk amongst life-sized bronze Australian dinosaurs

staff and volunteers working on real, 95 million-year old dinosaur bone fossils found in the Winton area and spectacular views from the top of a giant mesa with striking rocky outcrops and canyons, walking trails, animal and bird life - it's a photographer's paradise
Total Timing: 3 hours (includes Australian Age of Dinosaurs self-walk and Noble Express shuttle bus).

DINOSAUR STAMPEDE NATIONAL MONUMENT AT LARK QUARRY CONSERVATION PARK, WINTON
WHERE: Head 110km south-west from Winton via the Winton Jundah Road. The road to the trackways is suitable for conventional vehicles, however approximately 65km of the road is unsealed. Driving from Winton to Dinosaur Stampede will take approximately two hours.
WHAT: The dinosaur trackways at Dinosaur Stampede National Monument were formed 95 million years ago and is the only known dinosaur stampede in the world.
Total Timing: 45 minutes (excludes self-transfer to Dinosaur Stampede).
KRONOSAURUS KORNER, RICHMOND
WHERE: Kronosaurus Korner is located on the corner of Goldring and Larsen Street, Richmond in northwest Queensland. Richmond is located on the Flinders Highway 498km west of Townsville and 406km east of Mount Isa and forms part of Overlander's Way and Australia's Dinosaur Trail.
WHAT: Kronosaurus Korner is Australia's premier marine fossil museum. It showcases nearly 1,150 unique fossil specimens from Richmond, Outback Queensland. Fossils from the area include the 100-115 million year old remains of extinct marine reptiles, fishes, ammonites and squids that once dominated Australia's ancient inland sea
FLINDERS DISCOVERY CENTRE, HUGHENDEN
WHERE: Hughenden is 376km west of Townsville and 519 km east of Mount Isa. Access from the north is through the Kennedy Developmental Road. This partly sealed road is best checked before travelling as rain can change road conditions very quickly.
WHAT: The Flinders Discovery Centre houses an amazing exhibition of fossils and gems from around the world, as well as an extensive and growing display of fossils from the local area. "Hughie" is the star attraction; a life size replica of the Muttaburrasaurus.